Stick length: 28cm
chain length: 16.5cm or 19cm ( Adjustable)
weight: 185g
diameter: 2.5cm
Glow nunchaku is a performance props,compared to other nunchuck workmanship is not that good.We guarantee it glowing good and very ruggedness.Is definitely the best glow nunchakus you can buy online.
This motion sensor type have red blue green orange four kinds of lamp holder.
You can choose two different color lamp holder,or buy four kinds of lamp holder change color you want all by yourself.
check here: lamp holder for glow nunchaku
like this red and green: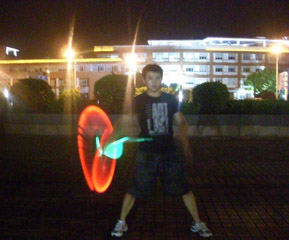 Gifts:6 button batteries